ABOUT US & OUR HISTORY
This project is built on 30 years of peace & social justice collaborative arts with nonprofits by Kira Carrillo Corser and a lifetime of work in peace and health outreach as well as education by Lisa Parsons.  
See ArtIsTheNextPeace.org for Phase One of the Posts for Peace & Justice Project.
The Posts for Peace & Justice Project is a collaboration connecting artists and nonprofits with inter-generational, multicultural communities through workshops, events, and online postings. The POSTS are PHYSICAL ARTWORKS and CREATIVE POSTS ONLINE.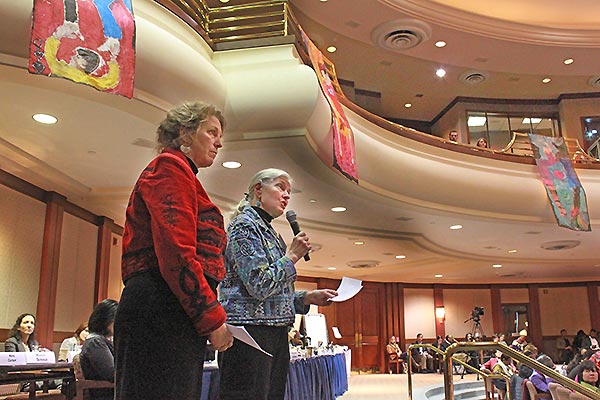 A few highlights from 2015: 
Atlanta, Georgia
---
Atlanta for a month working on peace and social justice workshops (over 70 people participated) with our collaborators One Billion Rising, and Karin Ryan, Senior policy adviser for human rights – Carter Center, Atlanta and staff.
Participation for 4 days at the Carter Center's International Human Rights Defenders Forum on violence against women and girls.  President Carter, and 100 Human Rights Defenders signed the Carter Post for Peace & Justice made by Kira Carrillo Corser with additional elements by Lisa Parsons, Karin Ryan, Carter and others.
Atlanta City Hall Atrium, 1 Billion Rising for Justice Atlanta V day Celebration, Feb 14 we had 8 posts displayed on the stage, and 12 Peace Silks (8-ft each) made by Kira with Iraqi and Burma Refugee Children from Chase Avenue School were hung as the performers backgrounds
MARTIN LUTHER KING Post was exhibited at the Martin Luther King Birthday Celebration Awards Dinner in January. We are in discussion with the Martin Luther King Center about POSTS workshops this summer.
Other collaborators are the YWCA Interfaith Coalition and Ben Marion Foundation in Atlanta.
Capitol Hill in Washington DC
---
Show on  July 1 to 7th, Cornerstore Art Center
Workshop at the International Child Art Festival on the National Mall (90 countries and 200 kids from the USA)
Monterey County, California
---
California State University Monterey Bay Gear Up Program (Dr. Colby & Dr. Bynoe lead professors on CSUMB Outreach workshops. We worked in 4 middle schools, plus with Dr. Jennifer Colby's class and First Night Monterey.  Special thanks to Carla Baldassari, a former school principal from Monterey County, was a major help in teaching and producing posts with the students. And to Ellen Martin, Executive Director of First Night Monterey and Nina Paris, Visual Arts Director for FIrst Night for studio space and help in completing the painting of the posts.
Current Projects
---
Currently working with The Arts on Purpose: Connecting Communities and Co-Director Lisa Parsons to grow the project internationally promoting a voice for justice and for teaching peaceful nonviolent skills.